6 June 2012, Taipei, Taiwan - Clientron Corp, a world-leading supplier of thin client and embedded systems, showcases its latest Thin and Zero Client innovations for cloud computing and virtual desktop devices, which provide the advantage of high energy efficiency, outstanding performance, and valuable safety on IT management.
Source link
Because of the emerging demand of green solutions in Cloud Computing markets, the Thin Client and Zero Client products with Virtualization applications become the highlight in COMPUTEX 2012. With over 15 years of experience on designing Thin Client products, Clientron provides various choices of thin client platforms for buyers. Clientron's latest L series Thin Client provides the features of dual-core CPU, DDR3 memory and dual DVI display ports, and also supports Microsoft's RemoteFX technology (Remote Desktop Protocol 7.1); it targets at high-end Thin Client market which requires both of the superior 3D graphic performance and low power consumption.
In the exhibition, Clientron also debuts it first TI SoC (System-on-Chip) based Thin Client Platform. The Clientron D500 Thin Client model is equipped with TI TMS320DM8148 (DM8148) application processor, providing a single hardware platform with software programmability supporting all major VDI protocols. In collaboration with Texas Instruments, Clientron has also designed the TI Thin/Zero Client Reference Board based on the DM8148 thin client application processor, providing dual HD display output on a single SoC for Cloud Computing Virtual Desktops.
For more details of Clientron's products, please visit Clientron at TWTC Nangang Exhibition Hall, Booth M1229, Computex Taipei 2012.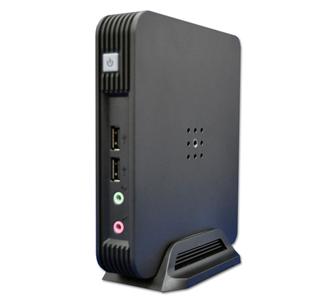 Clientron D series thin client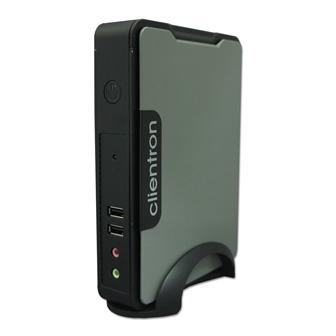 Clientron L Series thin client